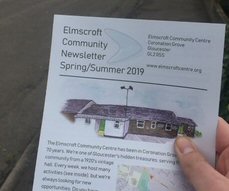 18 Mar

Special Delivery
In the last few days, we've had a bumper pack of newsletters printed, giving an overview of the activities happening at the centre. There's details on this website about what goes on, but not everyone in the vicinty of the centre knows we're here, so we wanted to reach out to the wider community and say hello!
We're delivering to the Armscroft Estate, Swallow Park and houses on and off Elmbridge Road, south of Merevale Road.
If you'd like a paper newsletter but didn't receive one, they'll be available to pick up from the centre soon.
Thank you to all the Elmscroft Friends who have delivered these over the blustery weekend!
Roads covered:
Elmbridge Road, south of Merevale Rd
Windfall Way
Green Pippin Close
Braeburn Close
Merevale Road
Colebridge Avenue
Riversley Road
Argyll Road
Argyll Place
Grafton Road
Kenilworth Avenue
Grosvenor Road
Bradford Road
Waverley Road
Lonsdale Road
Wolseley Road
Armscroft Road
Armscroft Place
Armscroft Crescent
Ebor Road
Blinkhorns Bridge Lane
Brookfield Mews
Armscroft Court
Armscroft Gardens
Coronation Grove
Hamer Street
Coltman Close
Coldray Close
Peart Close
Casey Close
Norman Ball Way
Etheridge Place
Barnwood Road, between the roundabout at the bottom of Wotton pitch and the Railway bridge.